When precious life is at stake, it is reassuring to rely on a highly-trained Neurosurgeon with the most advanced technology.
San Diego NeurosurgeonVik Udani MD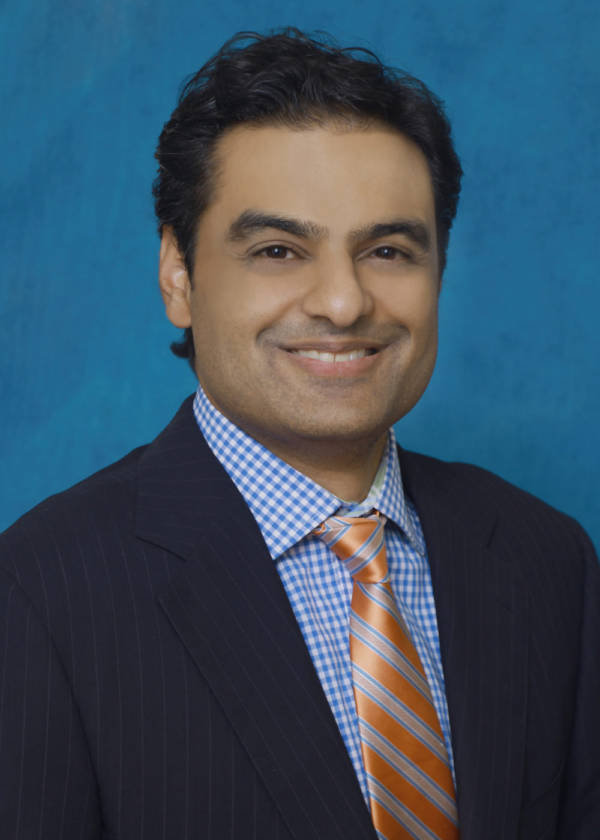 Dr. Vik Udani has a private neurosurgery practice in San Diego and also serves as the Medical Director of Neurosurgery at the Laurel Amtower Cancer Institute and Neuro-Oncology Center.  He completed his undergraduate degree at the University of Pennsylvania, medical school at the Stanford University School of Medicine, and neurosurgical training at the UCLA Medical Center.
Pain-free surgery
I cannot thank you enough for the pain-free surgery. Mentally, I was prepared but fortunately it was not a debilitating experience. My wife and I felt you had very competent hands and you proved us correct. Thank you Ashley and your staff for a wonderful conclusion.
Patient
Thank you for saving my life and my job.
Thank you for saving my life and my job. I'm doing very well and working very hard!
Patient
Back to normal again
God has blessed you in so many ways already. This was the first time I really got correct treatment without a really long wait. I am finally back to "normal" again.
Patient
He is a miracle doctor!
Bravo to Dr. Vikram Udani (Neurosurgery), who was recognized by a patient's loved one on Google: "He is a miracle doctor! He finds the actual reason for pain and gets to the bottom of it. My boyfriend's mother has been suffering since 2004 in her neck and back. He was able to catch it as soon as she met him!"
Patient
I really felt comfortable going into this surgery
I really felt comfortable going into this surgery and you even put my husband at ease. You were honest about what to expect and there were no surprises ever. Thank you for the direct approach and compassionate care you provided.
Patient
Removed My Tumor With The Utmost Skill And Professionalism
Dr. Udani removed my brain tumor with the utmost skill and professionalism. I am forever in his debt for saving my life. He is the best, and his staff make me feel like a family member. Kudos to Dr. Udani.
James C.
I feel amazing and on a path to a 100% recovery
Thank you too Dr. Udani and his amazing team. I had an AVM removed from my brain. I had never had a surgery before, let alone brain surgery. The confidence Dr. Udani had in his ability to remove the AVM and get me a full recovery gave me complete comfort. I feel amazing and on a path to a 100% recovery. Thank you to Dr. Udani and his entire staff.
Charlee B.
Dr. Udani is the best.
Dr. Vikram Udani is by far one of the best neurosurgeons in San Diego California….During my first appointment with doctor Udani, I was told I would need decompression surgery of the skull. At first I was terrified, I expressed my concerns to him and was extremely emotional. Dr. Udani, and his staff, Ashley and Jessica, were able to calm me down and explain the benefits of having this particular surgery. After speaking with Dr. Udani and his team I decided to go through with the surgery. I could honestly say, that was the best decision I've ever made in my life.
Jennifer E.Y.
Because of you I feel much better…
Because of you I fell much better and am able to have full use of my hands. The spinal surgery was a success. Thank you so very much."
Patient
A true friend when I needed it the most
Just wanted to let you know how much I appreciate your kind care of my father in the hospital and your expert advice along the way. Objectivity is difficult when it's your own dad and your patience and accessibility were appreciated by my entire family at a difficult time. My dad has woken up after 2 weeks of acupuncture and herbal therapy, is now speaking sentences and is weak, but moving all extremities. I'm not sure how much is due to the eastern medicine, but it probably is not hurting. He will have memory issues, but he recognizes family. Thanks again for being a true friend when I needed it the most!
Patient
Thanks for keeping me alive
Hi Dr. Udani,
Thank you for performing my two neck surgeries. You are an awesome doctor! Thanks for keeping me alive and for being there in my time of need!
J.M.
Your remarkable skills saved me again
I can't thank you enough for giving me back my life. Your remarkable skills saved me again I God bless you and your lovely family.
Patient
You made me feel at ease when I was scared
It's impossible for my family and I to thank you enough for fixing my back! I don't think I have ever had a doctor that was so caring and wonderful! You didn't have to take me on-but you did and you made me feel at ease when I was scared.
Patient
Removed A Tumor From The Back Of My Brain
Dr. Udani removed a tumor from the back of my brain and kept me informed throughout the whole process. I am feeling much better and recovery has been quick. He's extremely polite, caring, and professional as is the staff.
Patient
I Highly Recommend This Doctor To Anyone For Spinal Or Brain Surgery
This doctor comes highly recommended beyond five stars, way beyond five stars. He's friendly, he takes his time, he listens, but his work, most of all is impeccable, impeccable. He cares about every outcome and he takes good care of his patients. I highly recommend this doctor to anyone for spinal or brain surgery he is to be trusted Dr. Vikram Udani is the best I've ever had.
Diane F.
Lucky to have gotten someone as experienced and talented
I just wanted to say thank you for being so professional and for the success of my surgery. I never
expected to need a neurosurgeon but I was lucky to have gotten someone as experienced and talented as you. I really appreciate your hard work and was amazed that I could actually walk from the ICU ward to the trauma ward one day after surgery with no pain. Thanks to your hands and God's grace. I know I will have more time to enjoy life.
Patient
You are a lifesaver.
Thanks a lot for everything. You are a life saver. So far so good."
Patient
His Confidence And Skills Just Put Our Family At Ease
Dr.Udani is a great surgeon, with kind & calm bedside manners. His confidence and skills just put our family at ease as my Dad was rushed into emergency brain surgery to remove a very large cancerous tumor. Dr.Udani saved my Dad's life and our family feels blessed and grateful for him.
Lin H.
No more numbness and every day I feel better
I just really have to tell you how very thankful I am form the bottom of my heart! I believe everything happened to make sure I got the best surgeon and I will be eternally grateful for all you did for me. I cam into the hospital with my whole body going numb and even trouble walking and so full of fear and you fixed me up just like you said you would. No more numbness and every day I feel better! So excited about my full recovery. No words can say how much I appreciate what you did for me! Thank you, I am more than grateful!
Patient
A Doctor You Can Trust Your Life With
Best doctor I ever had! A doctor you can trust your life with. Expertise-wise, as well as on patient care. He has a good patient rapport and explains your condition, the causes and effects, in a layman's language.
Mirae L.
Absolutely The Best!
Dr. Udani and his team are absolutely the best! He is incredibly kind, knowledgeable and professional. Both of my spine surgeries were successful and done with extreme care. Dr. Udani clearly cares about his patients and the overall quality of your life. Thank you!
Patient
You Fixed My Brain Aneurisms
God bless you, Dr. Udani. You fixed my brain aneurisms and saved my life!
Patient
Dr. Udani Is Excellent, Excellent, Excellent
Dr. Udani is excellent, excellent, excellent. Front desk Jessica is polite, professional and super friendly.
Harison T.
Thanks To Him I Was Able To Go Back To School And Finish My Degree
I had a brain hemorrhage from an arteriovenous malformation. Doctor Udani did surgery on me and saved my life. Thanks to him I was able to go back to school and finish my degree!!!
Patient
My Last Hope After Nothing Was Helping
I had neck surgery last year by another surgeon that totally messed me up. I was in constant pain running down both of my arms. I saw Dr. Udani as my last hope after nothing was helping. He took me in for another surgery after clearly explaining that it may not work. Not only did it work, but I feel better than ever. I finally feel like I've recovered from this problem and am eternally grateful to Dr. Udani.
Patient
Attentiveness, genuine care and expertise
"Dr. Udani is an incredible surgeon that I trust with my life. His attentiveness, genuine care, and expertise is simply unmatched. I could not recommend him enough to anyone else who has to experience such unfortunate situations. In such a terrifying, uneasy, and life-threatening time in my life, Dr. Udani managed to make me feel so comforted and cared for. Thank you so much, you're a blessing!"
Jasmine K.
Best Chance Of Recovery After A Traumatic Incident
Dr. Udani was compassionate explaining the surgery required to give me the best chance of recovery after a traumatic incident. His care and concern was reassuring to my family and I. Dr. Udani answered all of our questions and ensure we understood the surgery before we proceeded.
Patient
Thank you for returning my fun-loving husband
It's been six months since you performed a small miracle. When my husband first went to you in November 2013, he was in overwhelming pain. Every day was torture and by the end of the work day, he simply sat in the recliner with a heating pad – nothing left in the tank. His back was so painful that a simple thing like taking the dogs for a walk was out of the question.
At our first consultation, you spelled out everything and quickly put us at ease. That wasn't a simple task, since back surgery is pretty much the last thing anyone wants to face. You carefully explained the procedure, what it would and would not do. In detail, you outlined what we could expect after surgery starting with day one.
….Nick is enjoying life. He's golfing, fishing, and gardening. Our three sons thank you as well, for returning their active father….You are a blessing, Dr. Udani, and we wish you continued success, restoring health and happiness to other families.
Patient
Your knowledge and skills are just amazing!
Thank you so much for doing such an excellent job on my mom's surgery! I felt at ease with confidence in you the first time we met. We put her in your hands and you were so wonderful! I'm so grateful to you, there just aren't enough words! Your knowledge and skills are just amazing! We are in awe of you really! My mom is healing well and less loopy each day. I'm sure she'll be back to full speed very soon.
Patient
Surgery Was A Breeze And I Went Home The Next Day
Fantastic experience. Had a minimally invasive surgery (MVD) for facial pain that had been bothering me for years . Surgery was a breeze and I went home the next day. Haven't had any pain since!
Patient
Saved Me From Becoming Paralyzed
Words cannot express how grateful I am to Dr. Udani and his team. They removed a tumor from my spine and saved me from becoming paralyzed. Excellent surgeon!
Patient
Taking such good care of me
Thank you for taking such good care of me during a most challenging season of my life. Please express my appreciation also to Ashley for her sensitivity to my situation. Thank you again!"
Patient